The rise of the private brand is exactly the outcome of the competition, Ovonic is a new battery brand for RC hobby and drone. You maybe hesitate to ask: how about them? It be worth buying? Today, I make a collection of Ovonic lipo battery review to solve your confusion. Go ahead!
There a lot of Ovonic battery reviews on internet, here's just a few of them as blew.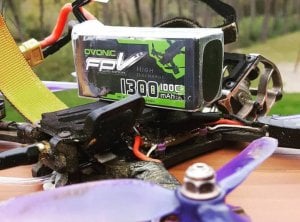 I got 5 mins of flight out of this pack running 30 amp tattu d-shot esc with 2205 2450kv lumenier freybotts on a 330gram qav-xs charpu frame.
Pros:
Tons of punch
Cheaper than equally sized big name brand
Nice short balance lead to keep it out of the props
Extremely well made
Included balance plug protector
Cons:
None as of now, will update as needed
Ovonic Lipo Battery Reveiw Video
Tbommy:
This battery is fantastic! For less coin than the popular brand high C packs, this thing, so far, matches them in every way. I now have 6 I¡¯ve these in 1300 and 1550 size 80c and 100c and well over a dozen flights each.
Imozeb:
Ovonic's 4S lipos weigh around 10g to 20g less than budget batteries like RDQ (164g) and CNHL (175g). Some people say that weight does not matter for 5" freestyle quads, but I found that the lighter you go, the longer your flight times are and the less sag on your batteries because it takes less energy to throw your quad into some awesome freestyle tricks. That's the reason I¡¯m switching to Ti screws to save weight on my quads.
Josh E:
I have had 2 of these packs for almost a month now, flown them on about 10 occasions for around 30 cycles total, and man do these things rip! Tons of power in theses packs and virtually no sag compared to other packs I have flown. I am flying these on an aggressive race quad with 2700kv motors and get 2:30 of hard aggressive racing. When taking it slow and cruising around, these are easily capable of 4-5 minute flight times. Even with these flight times I am still bringing the pack down around 3.7 volts per cell.
These came packaged very well and the build quality is nice. Love the short battery leads to cut down on weight and the wire used is a nice silicone material. The balance lead housing is a very nice touch and makes it much easier when charging.
Caleb's Skydive:
These high discharge lipos are an FPV pilots dream!!! The power stays very consistent through the length of the battery. I was able to get a 2:38 second flight with the 1300. Landing the pack at 14.2 V. So far the Ovonic 4s High discharge has kicked all other competitors out of the water! If they last a long time they will be my battery of choice in the future! Way to make a great product Ovonic!!